On-site wet spraying for metal signage, shop fronts and windows in the North East.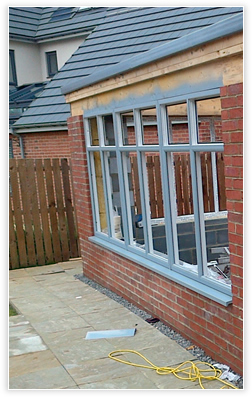 You can also take advantage of our mobile on-site metal painting service. We offer an experienced team of mobile colour coaters who can come on-site, at a time of your convenience and carry out a diverse range of projects.
On-site spraying and paint restoration for shop fronts, conservatories, windows & doors
Our on-site spraying and paint restoration service is ideal for commercial applications such as shop fronts, retail signage, office windows and doors. We have also worked on a large number of projects in the retail sector, upgrading or restoring paintwork on conservatories, windows and doors.
It's proving a hugely popular service, especially domestically where coloured windows and doors add significant value to a property and are a welcome change from the less exciting white or grey standard finishes.
On-site colour spraying for aluminium and uPVC fabricators
Our mobile division is also regularly on-site at manufacturers of aluminium and PVCu products – providing its colour coating services so they can meet demand from their customers.
Why not call one of our experienced team today to find out about our on-site colour coating service on 0191 5652230. Or contact us here
>Contact us