We have a vast array of colours for you to choose from.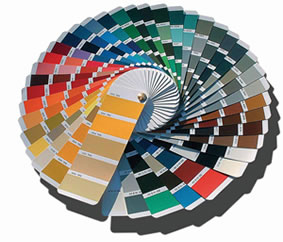 Whatever the application, we can transform and upradge its aesthetic quality thanks to the incredibly wide selection of colour options we can offer. You can literally select any colour you want to create the impression you desire.
As a leading colour bonding specialist we offer an in-house and on-site service, exceptionally fast-turnaround on products and can offer dual-colour options.
Visit the RAL Colour website for an expansive list of colours for you to choose from. Have a question regarding our range of colour finishes? Call us today to find out more about the range of colour finishes we can provide on 0191 5652230 or us our enquiry form here